It didn't take much encouragement, the draw of the mountains is always luring and the Highland Trail 550 has patiently been waiting on my bucket list. So, when Stu floated the idea of giving it a shot this May I was all in. The Highland Trail has made a name for itself as an extremely remote, rugged and gruelling route but its 550 mile length offers rewards of all the lochs, peaks and untouched glens that you could ever want.
Of course such a rad route will require a bike that can get equally rad. I expected that my (unintentionally secret) Pompetamine Cross Monster build with its delicate 40c gravel tyres and weenie mud clearances would likely not be up to the job. This meant that something else would need to be sourced. Luckily for me, Duncan, who is a very kind man at Surly, offered to lend me one of their Karate Monkeys which will be more than up to the task of bumping about some serious Scottish mountain sides.
It has been a long time since I have ridden anything but a full suspension bike on real off road. For the longest time I religiously rode hardtail's on and off everything and anything but as time moved on I eventually succumbed to the reality that bouncy bikes are actually a lot of fun when your seeking a big day of excitement in the woods.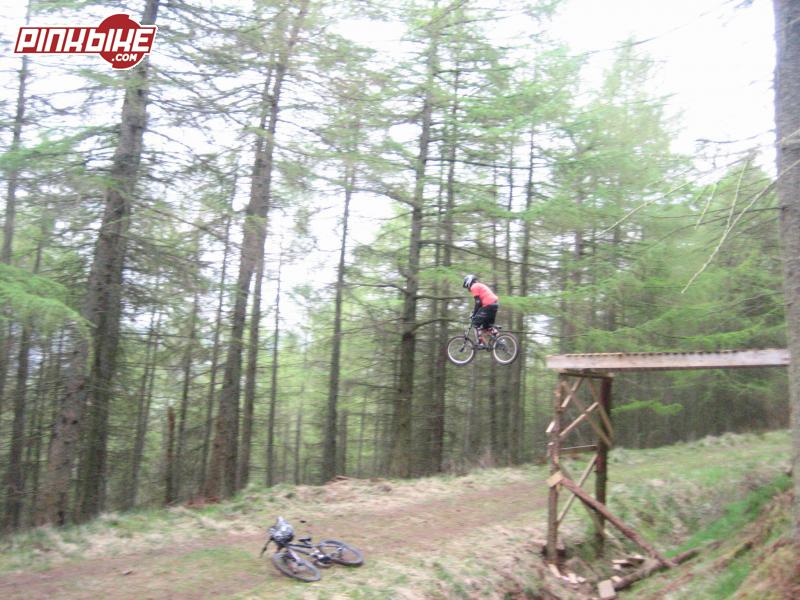 I was very excited to get the Karate Monkey built up, for the midweek rain to subside and to go for a spin in the Pentlands to rekindle my love of no nonsense mountain bikes. The Pentlands is a little pocket of adventure located just a short pedal away from Edinburgh, many paths and sheep tracks criss-cross the various peaks and gullys. There are all kinds of goodies tucked away waiting for those who are willing to explore and plenty to give me a taster of what the Karate Monkey was all about.
The first section of serious climbing would be Poets Glen. This rocky section of trail tucked against a wall and up a little valley makes an excellent cut through to reach the hills. Fairly challenging with slippery and loose boulders the Karate Monkey got stuck right in and rather uneventfully pedalled up. I would need to find something a bit more challenging to find this bikes limits.
By now I was at the door of the Pentlands and a little singletrack, some very wet gravel and a stretch of tarmac brought me to another gravel climb. This is a steep one and has beaten me in the past but not this time, I winched my way up with very little misbehaviour from the front end on the skyward feeling gradient. The big wheels and large tyres then showed their worth as I squelched through the following swamp fest from the last week of rain. Another grinding climb was dispatched and I found myself at the foot of West Kip's. A short hike-a-bike up the steep slope soon gave me a wide panorama bathed in golden evening light. Now it was time to see how this bike would descend.
I pointed it down the hill and soon we were going warp speed with little in the way of any braking traction on the slippery grass surface. The bike was laughing at my fear as we picked up more speed and I held on tightly as it bashed over all sorts of lumps and bumps with an unshakeable stability that you just wouldn't expect from a bike that doesn't know the meaning of compression dampening. The gradient eased and I took a deep breath of relief.
The next descent I was back in control and the Karate Monkeys qualities really shined. Surly have built a bike that takes all the advantages of modern long and slack 29er geometry without sacrificing the playful good times that have always defined great hardtails of old. Sure its a big bike, yet I had no problem navigating the hillside to find patches of grip that dotted the faint walkers path. Digging the tyres in where available and playing with the features on the hillside. I climbed back up some small trails that were not exciting on the up but will need to be revisited in the opposite direction.
The day was starting to finish and it was time to head home as I hadn't brought any lights. As I climbed Dreghorn Drop the sun was just tipping below the horizon, ahead lay a white knuckle gravel road that you can easily touch 40 mph. The bike was super steady and well behaved as I tore down the hillside. Whooping, shouting my way down to warn anyone that might be lurking on the path. I sneaked through town under complete darkness, linking up handy cycle paths to avoid the cars.
Now that the Karate Monkey has given me a taste as to what it can do I can't wait to strap some bags on and take it on some proper trips and adventures. Which is lucky as the countdown is well and truly on for riding the Highland Trail 550. The 19th of May is going to roll in fast, stay tuned.
Strava link here.
The build is Surly's standard issue setup. Sram NX takes care of the drivetrain and although not the smoothest setup it certainly gets the job done. Sram Level brakes have a smooth lever feel and slow the bike confidently even when fully loaded. Halo Vapour 29er wheels have a good weight to strength ratio and are plenty wide to give a good tyre profile. The Schwalbe Nobby Nics grip great although definitely don't roll the best so I will need to be swapped out when it comes to the HT550.